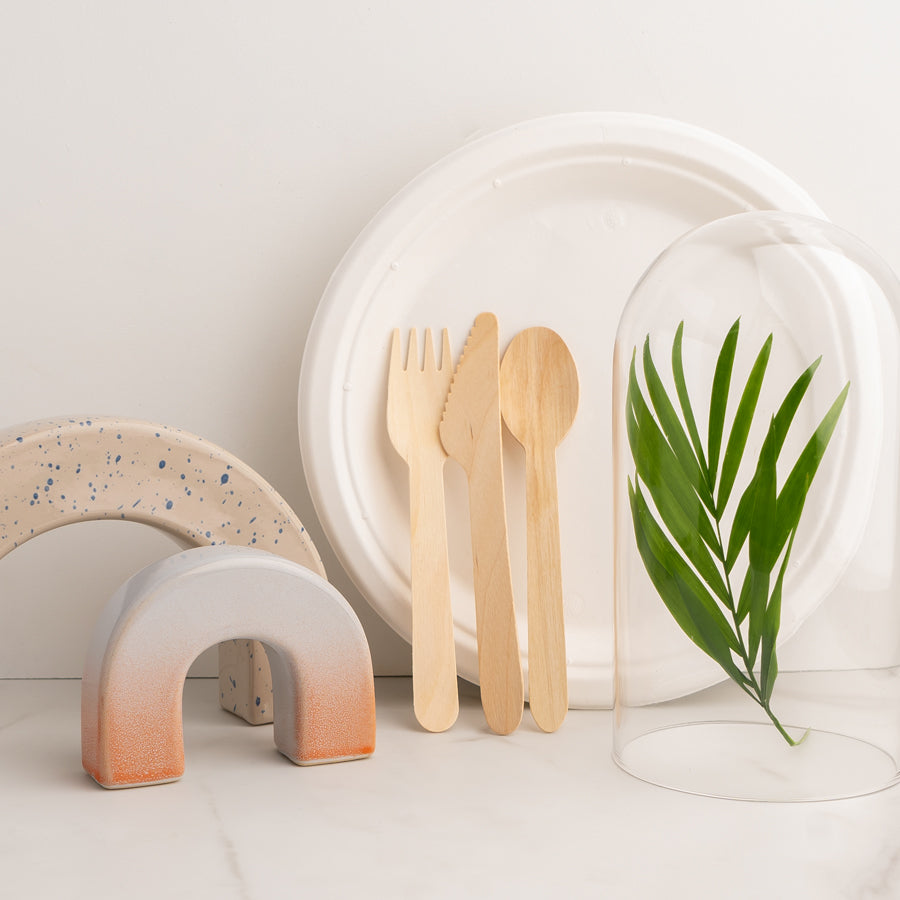 Plate and ecological cutlery
A set of ecological disposable vessels for one person is an ideal product for people who want to use organic and environmentally friendly products, and at the same time are looking for a convenient solution for one -time use. The set consists of a plate and a complete set of wooden cutlery, which includes a knife, fork and spoon.
The plate is made of sugar cane, i.e. a natural material that is biodegradable and environmentally friendly. The sugar cane is resistant to oils and water, thanks to which the plate is durable and can withstand quite a large amount of food.
A set of wooden cutlery consists of a knife, a fork and a spoon. They are made of wood, which also makes them biodegradable and environmentally friendly. Wooden cutlery does not contain any chemicals and are safe to use.
Personal pickup in stationary boutiques:

Warsaw: Hala Koszyki, Królewska 2, at Forest 2,
Vogla Square
Konstancin-Jeziorna: Old Papiernia

Delivery by a refrigerated car:

Cost: PLN 48.00-Warsaw districts: Śródmieście, Żoliborz, Wola, Targówek, Praga-Południe, Praga-Północ, Ochota, Mokotów, Italy, Wilanów, Wyłów, Wawer, Ursynów, Ursus, Rembertów, Bielany, Białołęka, Bemowo,

Cost: PLN 48.00-municipalities neighboring Warsaw: Piaseczno, Konstancin-Jeziorna, Józefosław, Łomianki

Cost: PLN 60.00 - municipalities adjacent to Warsaw: Izabelin, Piastów, Ożarów Mazowiecki, Nadarzyn, Pruszków, Józefów, Marki, Jabłonna, Czosnów, Raszyn, Stare Babice (Babice Nowe), Izabelin,

Cost: PLN 60.00 - municipalities neighboring Warsaw: Wiązowna, Otwock, Kobyłka, Zielonka, Wieliszew, Izabelin, Legionowo, Halinów