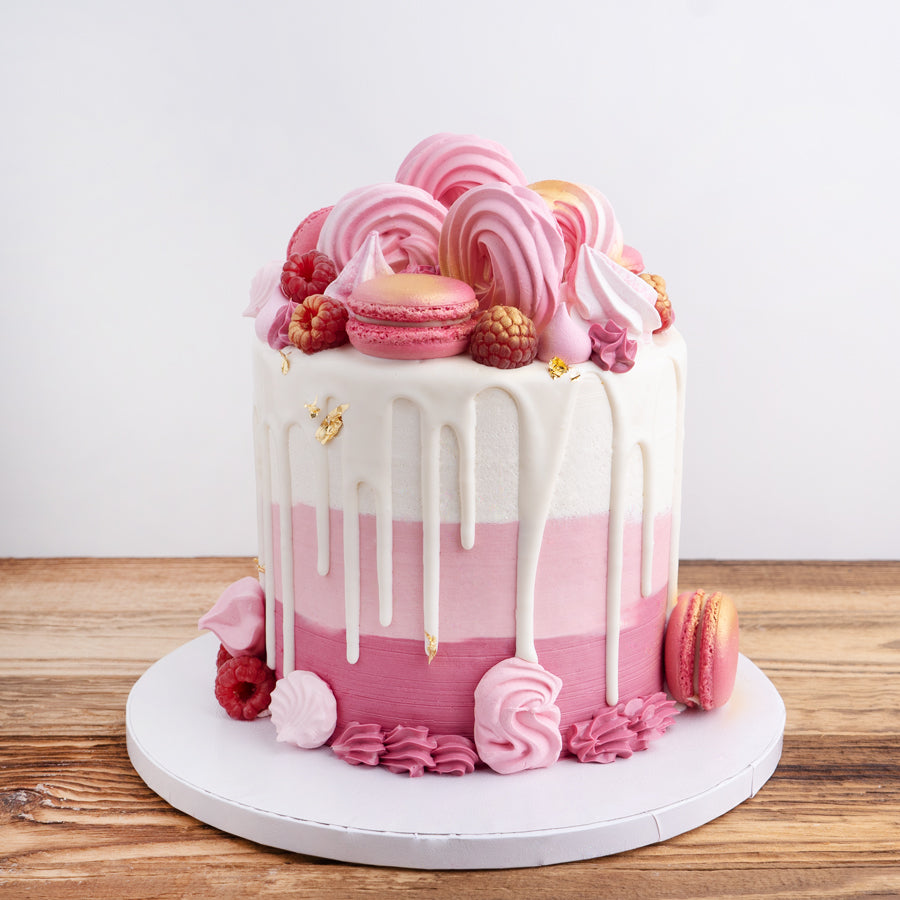 The Drip Cake cake is one of the most popular and stylish options among cakes. It is characterized by a colorful coating (DRIP), which flows on the sides of the cake in a selected color, which gives an effective and artistic look.
In our version, French macaroons, meringues with dining gold and colorful fruits that give it an elegant look and enrich the taste are placed on the cake.
One of the advantages of this cake is its versatility and the ability to personalize.
You can choose the coating color, which allows you to match the cake to the selected opportunity or color preferences.

- pink / accessories in the colors of pastel pink and white drip (topping)
- blue / accessories in blue and white drip (topping)

* Enter the selected option in the commentary on the order.
gluten
hazelnuts
soy
sesame
peanuts
eggs
milk
Duet - vanilla sponge cake, white chocolate mousse, milk chocolate mousse, feuilletine (crunchy chase based on nut paste and milk chocolate)

Chocolate mousse - chocolate sponge cake, chocolate mousse based on high -quality chocolate with a content of 70% Belgian cocoa by Barry Callebaut

Love - chocolate sponge cake, mousse of fruit fruit
Diameter: 16cm
Height: 15cm
Shape: round
Recommended number of portions: 15

Diameter: 20cm
Height: 12cm
Shape: round
Recommended number of portions: 20

Diameter: 24cm
Height: 12cm
Shape: round
Recommended number of portions: 25
Personal pickup in stationary boutiques:

Warsaw: Hala Koszyki, Królewska 2, Przy Lasku 2,
Plac Vogla
Konstancin-Jeziorna: Stara Papiernia

Delivery by a refrigerated car:

Cost: PLN 48.00-Warsaw districts: Śródmieście, Żoliborz, Wola, Targówek, Praga-Południe, Praga-Północ, Ochota, Mokotów, Włochy, Wilanów, Wesoła, Wawer, Ursynów, Ursus, Rembertów, Bielany, Białołęka, Bemowo,

Cost: PLN 48.00-municipalities neighboring Warsaw: Piaseczno, Konstancin-Jeziorna, Józefosław, Łomianki

Cost: PLN 60.00 - municipalities adjacent to Warsaw: Izabelin, Piastów, Ożarów Mazowiecki, Nadarzyn, Pruszków, Józefów, Marki, Jabłonna, Czosnów, Raszyn, Stare Babice (Babice Nowe), Izabelin,

Cost: PLN 60.00 - municipalities neighboring Warsaw: Wiązowna, Otwock, Kobyłka, Zielonka, Wieliszew, Izabelin, Legionowo, Halinów