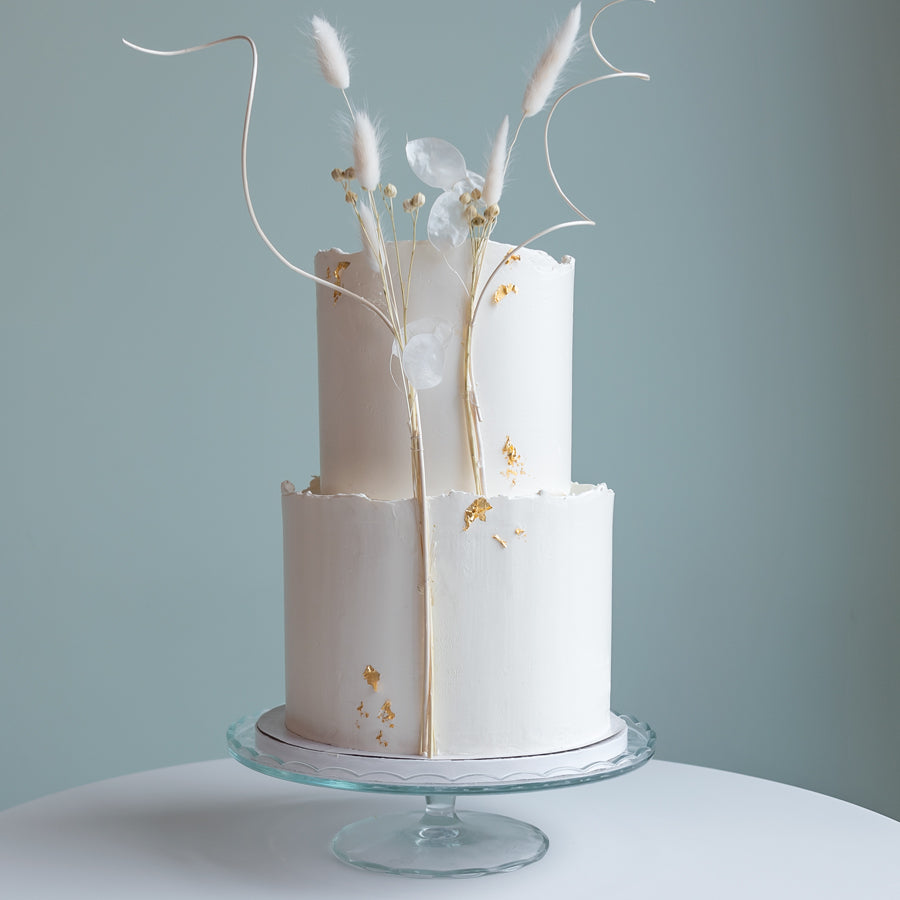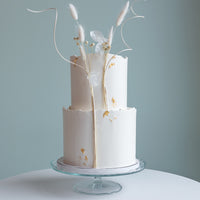 This wedding cake in a minimalist style is the perfect choice for those who want to express their unique personality through simplicity and elegance. Let "Minimal" a complement to your special day, while bringing joy and aesthetic elation.
The cake is the incarnation of excellent minimalism, emanating with elegance and simplicity. His silky smooth finish with white cream is a tribute to the minimalist style, in which less is more.
In the subtle decoration of this cake, long dried flowers are freely above its surface, creating delicate and harmonious compositions. It is a real poetry of minimalist forms and natural beauty.
The "minimal" cake invites you to contemplate beauty in simplicity. His clean lines and minimalist details catch the eye, creating a harmonious composition. In its unique modesty, this cake exudes elegance, becoming a great choice for couples who love the aesthetics of minimalism and look for expressive and subtle accents on their wedding table.
* Flowers constitute inedible decor.
Click on the "Guide to the flavors" tab and select your favorite cake taste.
We process orders until December 16
gluten
hazelnuts
soy
eggs
sesame
milk
peanuts
Duet - vanilla sponge cake, white chocolate mousse, milk chocolate mousse, feuilletine (crunchy chase based on nut paste and milk chocolate)

Red Velvet - a cocoa sponge cake in red, a light cream based on Italian mascarpone and Polish white cheese and a substantial portion of sweet raspberries.

Love - chocolate sponge cake, white chocolate and mousse of fruit fruit

Black currant - vanilla sponge cake, vanilla mousse, black currant and nut crunchy
Personal pickup in stationary boutiques:

Warsaw: Hala Koszyki, Królewska 2, Przy Lasku 2,
Plac Vogla
Konstancin-Jeziorna: Stara Papiernia

Delivery by a refrigerated car:

Cost: PLN 48.00-Warsaw districts: Śródmieście, Żoliborz, Wola, Targówek, Praga-Południe, Praga-Północ, Ochota, Mokotów, Włochy, Wilanów, Wesoła, Wawer, Ursynów, Ursus, Rembertów, Bielany, Białołęka, Bemowo,

Cost: PLN 48.00-municipalities neighboring Warsaw: Piaseczno, Konstancin-Jeziorna, Józefosław, Łomianki

Cost: PLN 60.00 - municipalities adjacent to Warsaw: Izabelin, Piastów, Ożarów Mazowiecki, Nadarzyn, Pruszków, Józefów, Marki, Jabłonna, Czosnów, Raszyn, Stare Babice (Babice Nowe), Izabelin,

Cost: PLN 60.00 - municipalities neighboring Warsaw: Wiązowna, Otwock, Kobyłka, Zielonka, Wieliszew, Izabelin, Legionowo, Halinów