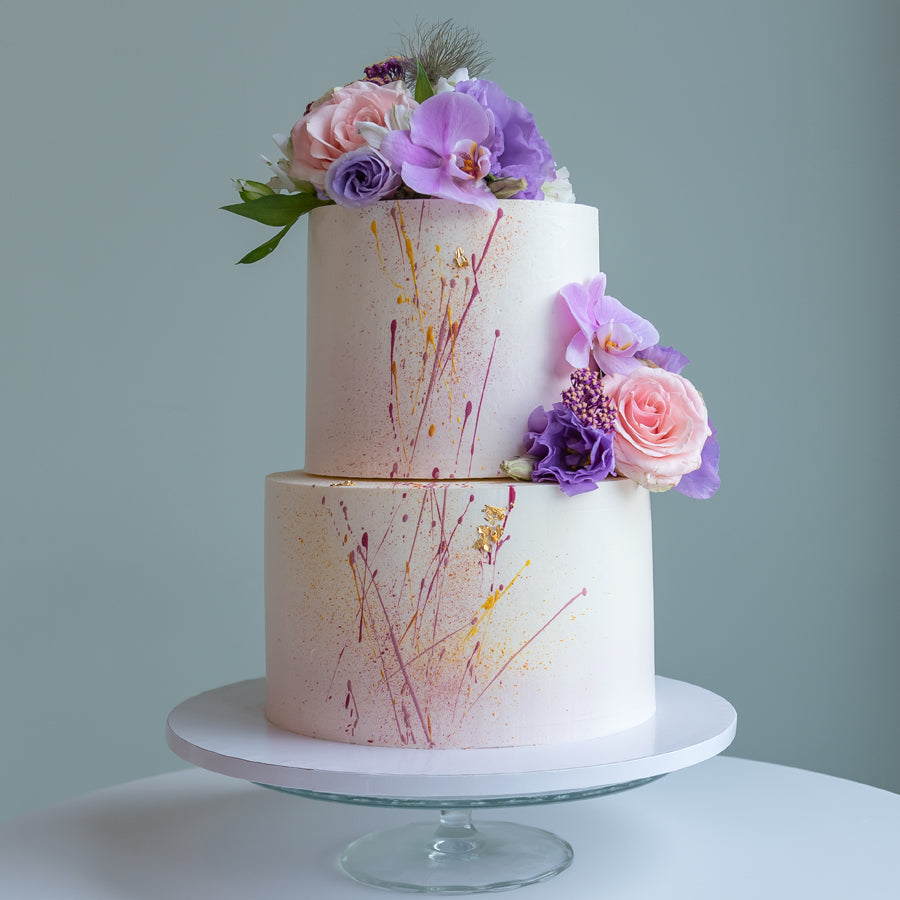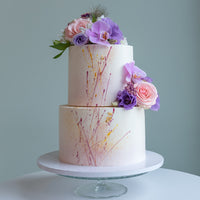 This brave wedding cake "Electric Purple" is an ideal choice for couples who want to express their individuality and creativity on a special wedding day. Its expressive design and an unusual combination of colors will attract the attention of all guests and provide an unforgettable visual experience.
The most important and most characteristic element are various fresh flowers in bold shades, which change from subtle pink to light purple, to deep, intense purple. 

The flowers complementing the flowers that electrifies is the colorful torture of the cake front. Equal purples and energetic yellows, harmoniously intertwine, creating a dynamic and joyful visual explosion.
To emphasize the uniqueness of this cake, there could be a subtle edible gold accents here and there.
Let yourself be carried away by electrifying purple and enter your wedding party to a higher level. This cake is dedicated to couples that love modernity, bold colors and expressive patterns. Get ready for a fascinating journey into the world "Electric Purple" and add sparks of creativity to your special wedding day.
* Flowers constitute inedible cake decoration,
Click on the "Guide to the flavors" tab and select your favorite cake taste.
We process orders until December 16
gluten
soy
eggs
hazelnuts
peanuts
milk
sesame
Duet - vanilla sponge cake, white chocolate mousse, milk chocolate mousse, feuilletine (crunchy chase based on nut paste and milk chocolate)

Red Velvet - a cocoa sponge cake in red, a light cream based on Italian mascarpone and Polish white cheese and a substantial portion of sweet raspberries.

Love - chocolate sponge cake, white chocolate and mousse of fruit fruit

Black currant - vanilla sponge cake, vanilla mousse, black currant and nut crunchy
Personal pickup in stationary boutiques:

Warsaw: Hala Koszyki, Królewska 2, Przy Lasku 2,
Plac Vogla
Konstancin-Jeziorna: Stara Papiernia

Delivery by a refrigerated car:

Cost: PLN 48.00-Warsaw districts: Śródmieście, Żoliborz, Wola, Targówek, Praga-Południe, Praga-Północ, Ochota, Mokotów, Włochy, Wilanów, Wesoła, Wawer, Ursynów, Ursus, Rembertów, Bielany, Białołęka, Bemowo,

Cost: PLN 48.00-municipalities neighboring Warsaw: Piaseczno, Konstancin-Jeziorna, Józefosław, Łomianki

Cost: PLN 60.00 - municipalities adjacent to Warsaw: Izabelin, Piastów, Ożarów Mazowiecki, Nadarzyn, Pruszków, Józefów, Marki, Jabłonna, Czosnów, Raszyn, Stare Babice (Babice Nowe), Izabelin,

Cost: PLN 60.00 - municipalities neighboring Warsaw: Wiązowna, Otwock, Kobyłka, Zielonka, Wieliszew, Izabelin, Legionowo, Halinów