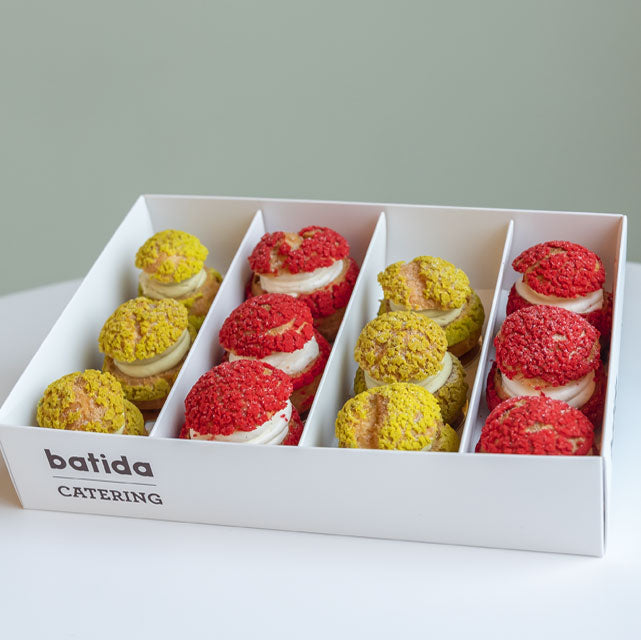 A set of sweet mini French puffs (Choux) is a proposal for dessert lovers who value an exquisite taste and elegant look. The kit includes two types of puffs - a green PTY with pistachio cream and PTYŚ with vanilla cream and raspberry.
Puffs are French cookies made of brewed dough, characterized by a crunchy crust and a delicate interior. Each puff is filled with a rich, thick cream that gives it a unique taste.
Green Ptyś With pistachio cream it is a combination of sweetness and a distinct taste of pistachios. The cream is smooth, creamy and has an intense taste of pistachio nuts, which gives the cake a unique character. The green color of Puff gives it an elegant and unique look.
Red Ptyś Combining the delicate taste of vanilla and fruity note of raspberries. The cream is velvety and has a sweet and sour taste that combines in a perfect way with puff. It's the perfect combination of flavors that will certainly satisfy every sweet lover.
A set of sweet mini French puffs is an ideal proposition for an elegant dessert or a sweet treat for guests.

Additional information:
Quantity: 12 pieces
Packaging: dedicated, elegant white cardboard box with a transparent lid
The photo is illustrative
The product is not available on December 1-28
Personal pickup in stationary boutiques:

Warsaw: Hala Koszyki, Królewska 2, at Forest 2,
Vogla Square
Konstancin-Jeziorna: Old Papiernia

Delivery by a refrigerated car:

Cost: PLN 48.00-Warsaw districts: Śródmieście, Żoliborz, Wola, Targówek, Praga-Południe, Praga-Północ, Ochota, Mokotów, Italy, Wilanów, Wyłów, Wawer, Ursynów, Ursus, Rembertów, Bielany, Białołęka, Bemowo,

Cost: PLN 48.00-municipalities neighboring Warsaw: Piaseczno, Konstancin-Jeziorna, Józefosław, Łomianki

Cost: PLN 60.00 - municipalities adjacent to Warsaw: Izabelin, Piastów, Ożarów Mazowiecki, Nadarzyn, Pruszków, Józefów, Marki, Jabłonna, Czosnów, Raszyn, Stare Babice (Babice Nowe), Izabelin,

Cost: PLN 60.00 - municipalities neighboring Warsaw: Wiązowna, Otwock, Kobyłka, Zielonka, Wieliszew, Izabelin, Legionowo, Halinów