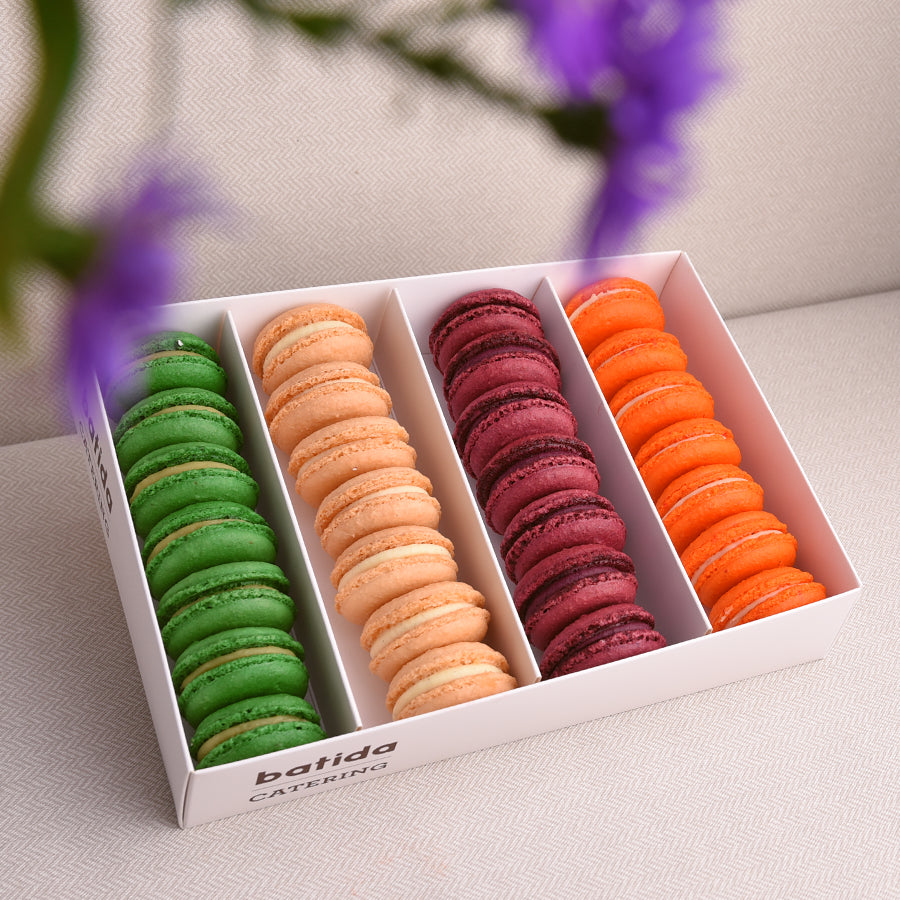 The set of macaroons consists of four colorful, beautifully formed small cookies. Each of them has a delicate, crunchy shell from the outside and a soft, damp interior.
White Macaroons have a delicate taste of vanilla, which combines with a hint of sweets.
Violet Black currant macaroons have an intense, slightly sour taste that contrasts with the sweetness of cookies.
Green Pistachio macaroons have a clear nut taste, which definitely resembles pistachios, which is an ideal complement to pieces of almonds found in the dough.
Orange Macaroons with a flavor flavor, in turn, have a sour and exotic taste, which gives cookies a unique character.
A set of macaroons is a great proposition for lovers of sweets who want to try something special and original. Every cookie is a small work of confectionery art, which was made with great attention to every detail.
It is an ideal choice for people who value elegance, quality and unique taste.

Additional information:
Quantity: 5 or 28 pieces
Packaging: dedicated, elegant white cardboard box with a transparent lid
Delivery time: 48h
The product is not available on December 1-28
gluten
hazelnuts
sesame
soy
peanuts
eggs
milk
Personal pickup in stationary boutiques:

Warsaw: Hala Koszyki, Królewska 2, at Forest 2,
Vogla Square
Konstancin-Jeziorna: Old Papiernia

Delivery by a refrigerated car:

Cost: PLN 48.00-Warsaw districts: Śródmieście, Żoliborz, Wola, Targówek, Praga-Południe, Praga-Północ, Ochota, Mokotów, Italy, Wilanów, Wyłów, Wawer, Ursynów, Ursus, Rembertów, Bielany, Białołęka, Bemowo,

Cost: PLN 48.00-municipalities neighboring Warsaw: Piaseczno, Konstancin-Jeziorna, Józefosław, Łomianki

Cost: PLN 60.00 - municipalities adjacent to Warsaw: Izabelin, Piastów, Ożarów Mazowiecki, Nadarzyn, Pruszków, Józefów, Marki, Jabłonna, Czosnów, Raszyn, Stare Babice (Babice Nowe), Izabelin,

Cost: PLN 60.00 - municipalities neighboring Warsaw: Wiązowna, Otwock, Kobyłka, Zielonka, Wieliszew, Izabelin, Legionowo, Halinów