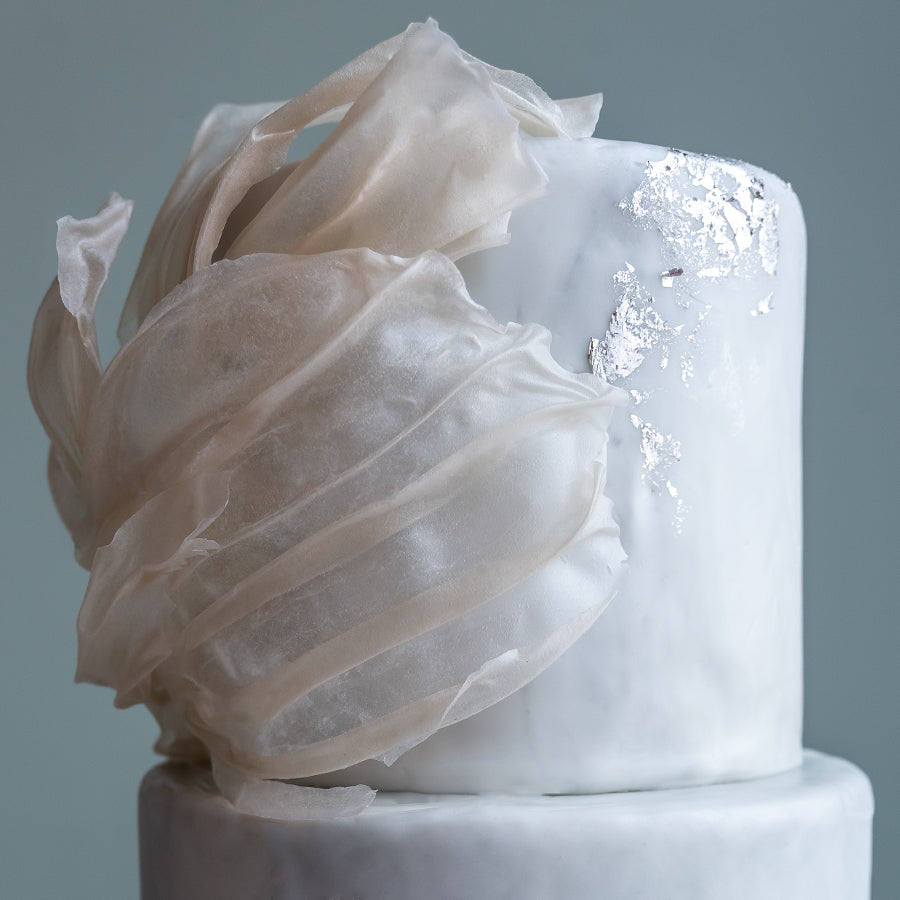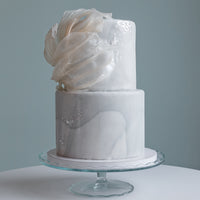 We dedicate the cake for couples who want to immortalize the moments that go through the wedding on their wedding day. Take the invitation to this artistic world and let this cake witness your love and exceptional emotions.
The fleeting wind and veil intertwine in the magical dance at the top of this artistic cake. Its marble sugar mass in delicate shades of gray and white becomes a canvas for this unforgettable moment.
Looking at the cake, we stop in time. It seems that a delicate breeze hung in a veil, entwining one of the floors of the cake. This fleeting and romantic spectacle reminds us of magical and emotional moments that we want to keep forever.
This artistic cake is a symbol not only of the perfect taste, but also a unique moment that transfers us into the world of dreams. Imagine how the wind dances with a veil, creating a unique dance full of tension and emotions.
Click on the "Guide to the flavors" tab and select your favorite cake taste.
We process orders until December 16
gluten
soy
hazelnuts
peanuts
milk
eggs
sesame
Duet - vanilla sponge cake, white chocolate mousse, milk chocolate mousse, feuilletine (crunchy chase based on nut paste and milk chocolate)

Red Velvet - a cocoa sponge cake in red, a light cream based on Italian mascarpone and Polish white cheese and a substantial portion of sweet raspberries.

Love - chocolate sponge cake, white chocolate and mousse of fruit fruit

Black currant - vanilla sponge cake, vanilla mousse, black currant and nut crunchy
Personal pickup in stationary boutiques:

Warsaw: Hala Koszyki, Królewska 2, Przy Lasku 2,
Plac Vogla
Konstancin-Jeziorna: Stara Papiernia

Delivery by a refrigerated car:

Cost: PLN 48.00-Warsaw districts: Śródmieście, Żoliborz, Wola, Targówek, Praga-Południe, Praga-Północ, Ochota, Mokotów, Włochy, Wilanów, Wesoła, Wawer, Ursynów, Ursus, Rembertów, Bielany, Białołęka, Bemowo,

Cost: PLN 48.00-municipalities neighboring Warsaw: Piaseczno, Konstancin-Jeziorna, Józefosław, Łomianki

Cost: PLN 60.00 - municipalities adjacent to Warsaw: Izabelin, Piastów, Ożarów Mazowiecki, Nadarzyn, Pruszków, Józefów, Marki, Jabłonna, Czosnów, Raszyn, Stare Babice (Babice Nowe), Izabelin,

Cost: PLN 60.00 - municipalities neighboring Warsaw: Wiązowna, Otwock, Kobyłka, Zielonka, Wieliszew, Izabelin, Legionowo, Halinów