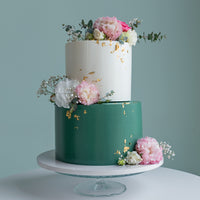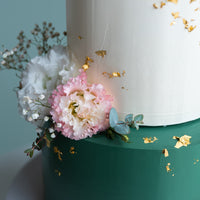 If you want to create an unforgettable atmosphere in your wedding day, in which nature and beauty meet in one place, this cake is the perfect choice.
Each detail of this cake has been carefully thought out to introduce harmony between the boho style and the romantic mood of the wedding day. The cake is kept in subtle colors of white and grassy green, creating a harmonious symbiosis with a natural environment.
At the top of the cake, among the lush green and delicate white petals, there are unique live flowers and leaves, including beautiful branches of eucalyptus. Their presence gives the cake a unique charm, adding a delicate movement and life.
Our most important decoration is great nature, which becomes an integral part of this unique cake. We placed live flowers and leaves between the floors of the cake, including beautiful eucalyptus, which add a delicate smell and give the cake a unique charm. Their freshness and natural elegance emphasize the style of boho, and at the same time create an effective contrast with the white cake.
* Flowers constitute inedible cake decoration,
Click on the "Guide to the flavors" tab and select your favorite cake taste.
We process orders until December 16
soy
gluten
eggs
hazelnuts
milk
sesame
peanuts
Love - chocolate sponge cake, white chocolate and mousse of fruit fruit.

Black currant - vanilla sponge cake, vanilla mousse, blackcurrant and nut crunchy.

Duet - vanilla sponge cake, white chocolate mousse, milk chocolate mousse, feuilletine (crunchy chase based on nut paste and milk chocolate).

Red Velvet - a cocoa sponge cake in red, a light cream based on Italian mascarpone and Polish white cheese and a substantial portion of sweet raspberries.
Personal pickup in stationary boutiques:

Warsaw: Hala Koszyki, Królewska 2, Przy Lasku 2,
Plac Vogla
Konstancin-Jeziorna: Stara Papiernia

Delivery by a refrigerated car:

Cost: PLN 48.00-Warsaw districts: Śródmieście, Żoliborz, Wola, Targówek, Praga-Południe, Praga-Północ, Ochota, Mokotów, Włochy, Wilanów, Wesoła, Wawer, Ursynów, Ursus, Rembertów, Bielany, Białołęka, Bemowo,

Cost: PLN 48.00-municipalities neighboring Warsaw: Piaseczno, Konstancin-Jeziorna, Józefosław, Łomianki

Cost: PLN 60.00 - municipalities adjacent to Warsaw: Izabelin, Piastów, Ożarów Mazowiecki, Nadarzyn, Pruszków, Józefów, Marki, Jabłonna, Czosnów, Raszyn, Stare Babice (Babice Nowe), Izabelin,

Cost: PLN 60.00 - municipalities neighboring Warsaw: Wiązowna, Otwock, Kobyłka, Zielonka, Wieliszew, Izabelin, Legionowo, Halinów