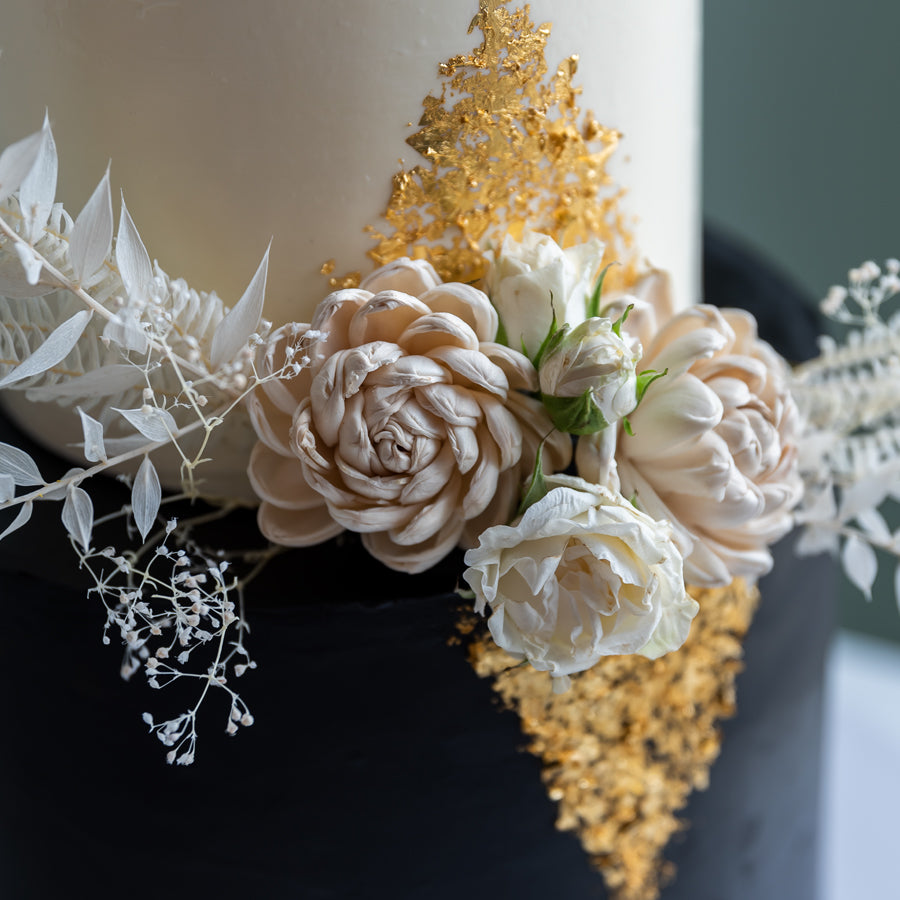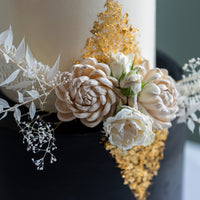 The cake emanates with exceptional grace and subdued elegance. It is an ideal choice for couples who want to emphasize their uniqueness, classics and sophistication on a special wedding day. This minimalist composition will delight both you and your guests.
First tier The cake looks phenomenal in black, emanating elegance and mystery. This is a bold step that attracts looks and adds the character of the whole composition. Second tier However, it impresses with a subtle shade of coffee with milk, gently breaking white. It is here that the notes of cream brown and white purity meet, creating a harmonious symphony.
On the front of the cake, a precisely placed gold rhomb made of edible gold, it is a beautiful and luxurious accent. This is a focal point that catches the eye and emphasizes the uniqueness of this cake.
In addition, we placed a bouquet of white and beige flowers between floors. Partly consisting of dried flowers, and partly from live flowers, the bouquet adds natural charm to the cake and introduces a subtle contrast between strong black.
 * flowers are inedible cake decoration,

Click on the "Guide to the flavors" tab and select your favorite cake taste.
We process orders until December 16
gluten
soy
eggs
hazelnuts
sesame
milk
peanuts
LOVE-chocolate biscuit, white chocolate and mousse with marakui fruit.

BLACK CURRANT-vanilla biscuit, vanilla mousse, black currant, and peanut crisper.

DUET-vanilla biscuit, mousse with white chocolate, mousse with milk chocolate, feuilletine (crispy praika on the basis of peanut paste and milk chocolate).

RED VELVET-a cocoa biscuit in red color with a light cream on the basis of Italian mascarpone and Polish white cheese, and a sizeable portion of sweet raspberries.
Personal collection in stationary boutiques:

Warsaw: Hala Koszyki, Królewska 2, Przy Lasku 2,
Plac Vogla
Konstancin-Jeziorna: Stara Papiernia

Refrigerated delivery:

Cost: 48.00 PLN – Warsaw districts: Śródmieście, Żoliborz, Wola, Targówek, Praga-Południe, Praga-Północ, Ochota, Mokotów, WłochyWilanów, Wesoła, Wawer, Ursynów, Ursus, Rembertów, Bielany, Białołęka, Bemowo,

Cost: 48.00 PLN – Communes neighbouring Warsaw: Piaseczno, Konstancin-Jeziorna, Józefosław, Łomianki

Cost: 60.00 PLN – Communes neighbouring Warsaw: Izabelin, Piastów, Ożarów mazowiecki, Nadarzyn, Pruszków, Józefów, Marki, Jabłonna, Czesnów, Raszyn, Stare Babice (Babice Nowe), Izabelin,

Cost: 60.00 PLN – Municipalities neighbouring Warsaw: Wiązowna, Otwock, Kobyłka, Zielonka, Wieliszew, Izabelin, Legionowo, Halinów