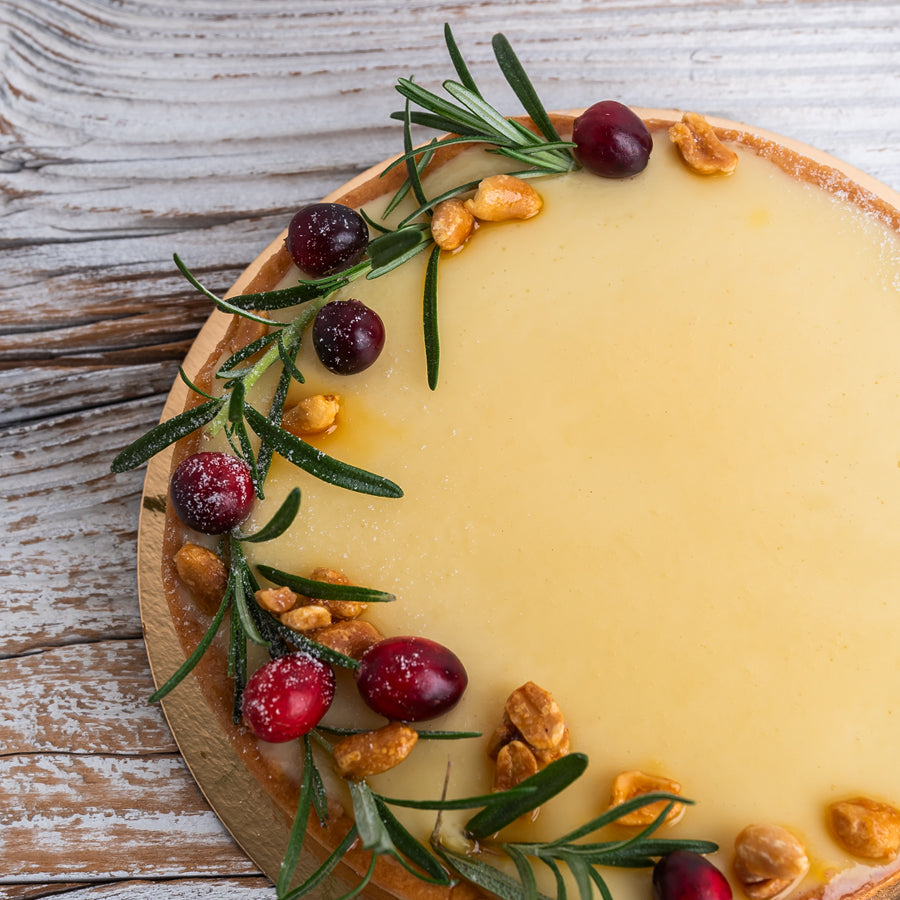 Holidays are a magical time when a unique atmosphere of joy, love and spending time with loved ones is born. In this spirit, we have prepared for you an extraordinary feast of flavors that will illuminate your Christmas parties. 
This is a shortbread almond dough, gaining on taste and consistency thanks to an exquisite cranberry jam, which is hidden inside. We put a ganache prepared on the basis of white chocolate and cream on the grated crown. This combination of the taste of delicate chocolate with the lightness of the cream creates harmony that will certainly delight your palate.
But that's not the end! Our tart is not only tasty, but also beautifully decorated with fresh cranberry, which adds Christmas splendor. In addition, aromatic rosemary and crunchy almonds give it a unique character. It is a combination of sweets and freshness, which will certainly warm up the hearts of your guests during a joint Christmas meeting.
Give yourself and your loved ones an unforgettable taste pleasure in this unique period of the year. 
Additional information:
Packaging: dedicated paper box
Number of portions: tart dedicated to 6 people
Order with implementation from December 1 to 24.
gluten
hazelnuts
soy
sesame
peanuts
eggs
milk
Personal pickup in stationary boutiques:

Warsaw: Hala Koszyki, Królewska 2, Przy Lasku 2,
Plac Vogla
Konstancin-Jeziorna: Stara Papiernia

Delivery by a refrigerated car:

Cost: PLN 48.00-Warsaw districts: Śródmieście, Żoliborz, Wola, Targówek, Praga-Południe, Praga-Północ, Ochota, Mokotów, Włochy, Wilanów, Wawer, Ursynów, Ursus, Rembertów, Bielany, Białołęka, Bemowo,

Cost: PLN 48.00-municipalities neighboring Warsaw: Piaseczno, Konstancin-Jeziorna, Józefosław, Łomianki

Cost: PLN 60.00 - municipalities adjacent to Warsaw: Izabelin, Piastów, Ożarów Mazowiecki, Nadarzyn, Pruszków, Józefów, Marki, Jabłonna, Czosnów, Raszyn, Stare Babice (Babice Nowe), Izabelin,

Cost: PLN 60.00 - municipalities neighboring Warsaw: Wiązowna, Otwock, Kobyłka, Zielonka, Wieliszew, Izabelin, Legionowo, Halinów