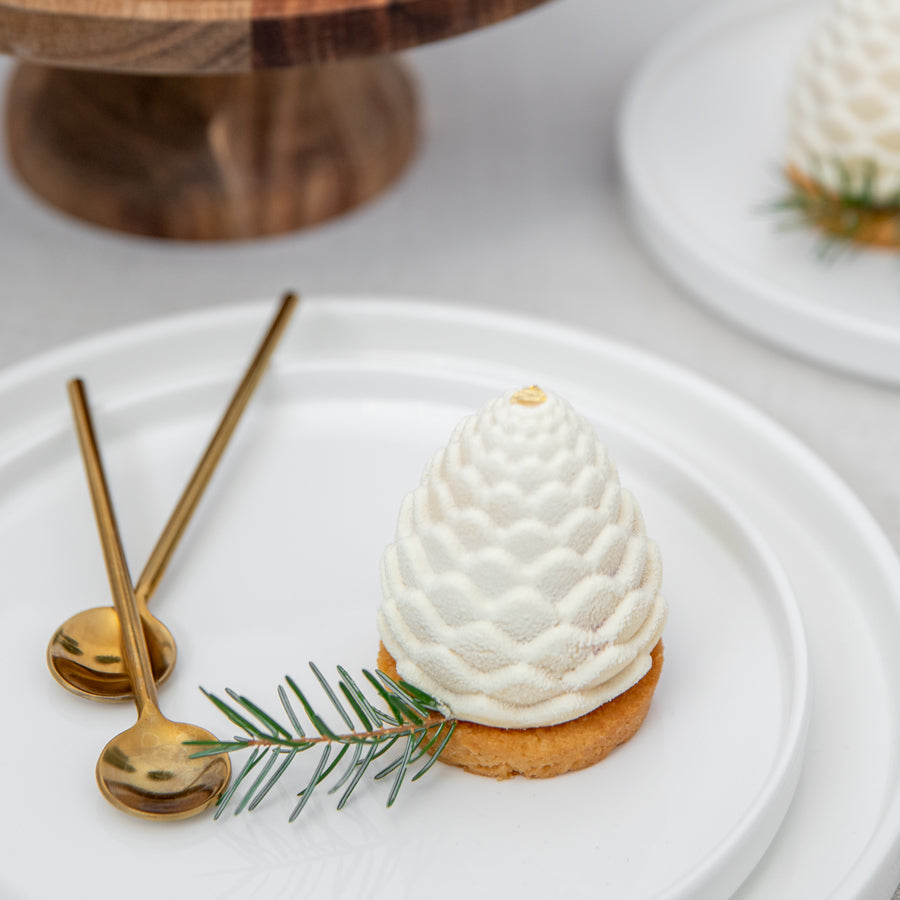 Dress with a magical combination of Christmas flavors in our mono portion "cone".
The unique mousse, which was created from the aromatic infusion of spruce needles and cocoa beans, brings memories of white winter landscapes and a warm atmosphere of the house on holidays. White chocolate and honey complement the composition, giving it sweets and depth. However, a real surprise awaits inside - the sour accent of cranberry, which perfectly contrasts with the rest of the ingredients.
The whole is served on crunchy almond crumble, which adds a texture and nut character to the dessert. Szyszka is not only visual, but above all a taste experience that will delight everyone who tries it.
Additional information:
Packaging: dedicated cardboard box
Number of portions: mono portion recommended for one person
Order with implementation from 8 to 23 December.
gluten
hazelnuts
soy
sesame
peanuts
eggs
milk
Personal pickup in stationary boutiques:

Warsaw: Hala Koszyki, Królewska 2, Przy Lasku 2,
Plac Vogla
Konstancin-Jeziorna: Stara Papiernia

Delivery by a refrigerated car:

Cost: PLN 48.00-Warsaw districts: Śródmieście, Żoliborz, Wola, Targówek, Praga-Południe, Praga-Północ, Ochota, Mokotów, Włochy, Wilanów, Wawer, Ursynów, Ursus, Rembertów, Bielany, Białołęka, Bemowo,

Cost: PLN 48.00-municipalities neighboring Warsaw: Piaseczno, Konstancin-Jeziorna, Józefosław, Łomianki

Cost: PLN 60.00 - municipalities adjacent to Warsaw: Izabelin, Piastów, Ożarów Mazowiecki, Nadarzyn, Pruszków, Józefów, Marki, Jabłonna, Czosnów, Raszyn, Stare Babice (Babice Nowe), Izabelin,

Cost: PLN 60.00 - municipalities neighboring Warsaw: Wiązowna, Otwock, Kobyłka, Zielonka, Wieliszew, Izabelin, Legionowo, Halinów