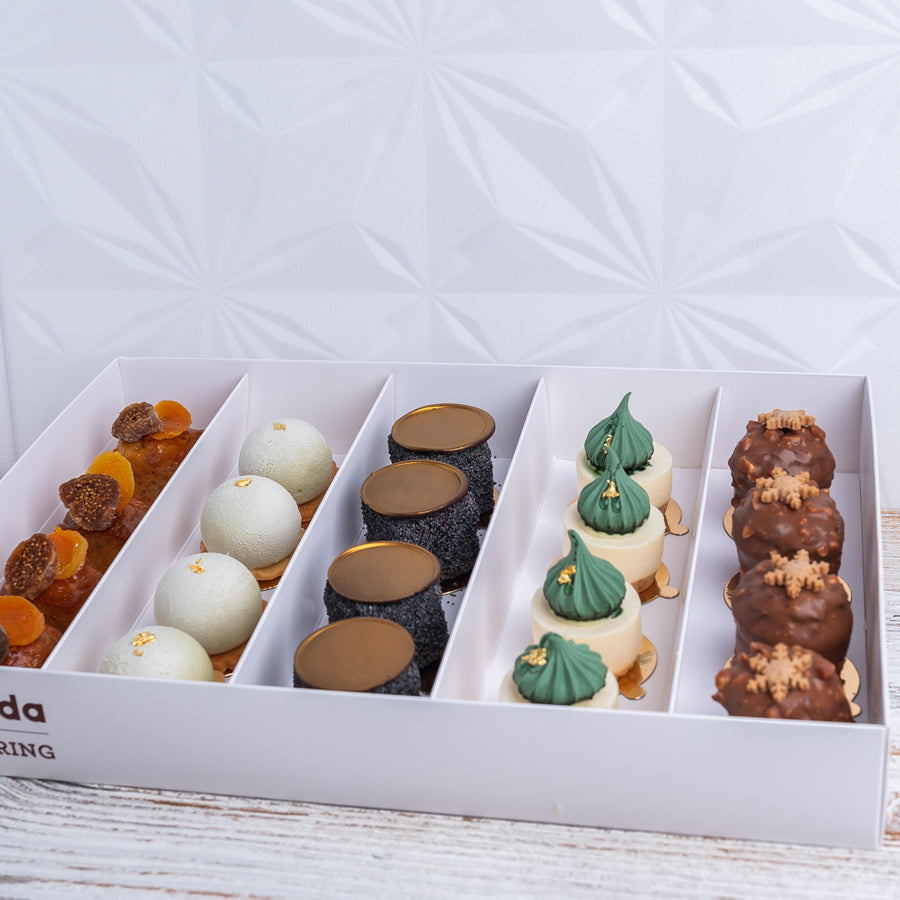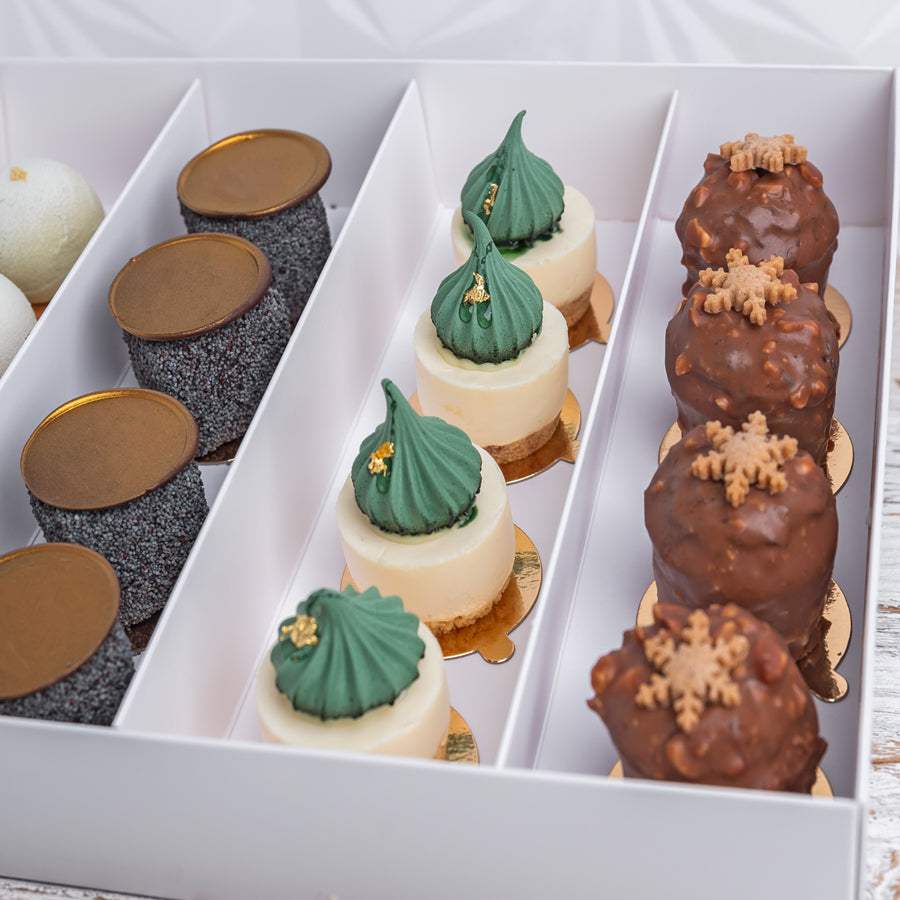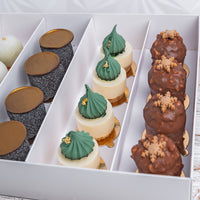 A set of Christmas mini-deserves
A luxurious set of twenty Christmas mini desserts: from classic cheesecake through a vegan poppy seed cake, to a pistachio ball with strawberry filling. Christmas traditions and modern flavors in one set - the perfect choice for a festive table.
Cheesecake on almond crumble: Classic cheesecake in a modern edition, on crispy almond crumble, decorated with a light and fluffy meringue.

Vegan poppy seed cake with a golden stamp: vegan version of a traditional Christmas delicacy with the addition of a luxury golden stamp that gives it elegance.

Gingerbread with plum jam in milk chocolate: The charm of traditional gingerbread combined with a sweet plum jam, wrapped in velvet milk chocolate, with crunchy hazelnuts and gingerbread decoration.

Pistachio-tapular ball: creamy pistachio ball with strawberry filling, covered with white suede and subtly decorated with gold, served on a fragile almond cake.

Creak decorated with fig and apricot: traditional Christmas cake in miniature, perfectly soaked, decorated with a juicy fig and sweet apricot, creating a harmonious composition of flavors.
Additional information:
Packaging: dedicated box with a transparent lid
Weight: a set of 20 pieces
Order with implementation from December 1 to 24.
gluten
soy
sesame
hazelnuts
peanuts
eggs
milk
Personal pickup in stationary boutiques:

Warsaw: Hala Koszyki, Królewska 2, Przy Lasku 2,
Plac Vogla
Konstancin-Jeziorna: Stara Papiernia

Delivery by a refrigerated car:

Cost: PLN 48.00-Warsaw districts: Śródmieście, Żoliborz, Wola, Targówek, Praga-Południe, Praga-Północ, Ochota, Mokotów, Włochy, Wilanów, Wawer, Ursynów, Ursus, Rembertów, Bielany, Białołęka, Bemowo,

Cost: PLN 48.00-municipalities neighboring Warsaw: Piaseczno, Konstancin-Jeziorna, Józefosław, Łomianki

Cost: PLN 60.00 - municipalities adjacent to Warsaw: Izabelin, Piastów, Ożarów Mazowiecki, Nadarzyn, Pruszków, Józefów, Marki, Jabłonna, Czosnów, Raszyn, Stare Babice (Babice Nowe), Izabelin,

Cost: PLN 60.00 - municipalities neighboring Warsaw: Wiązowna, Otwock, Kobyłka, Zielonka, Wieliszew, Izabelin, Legionowo, Halinów