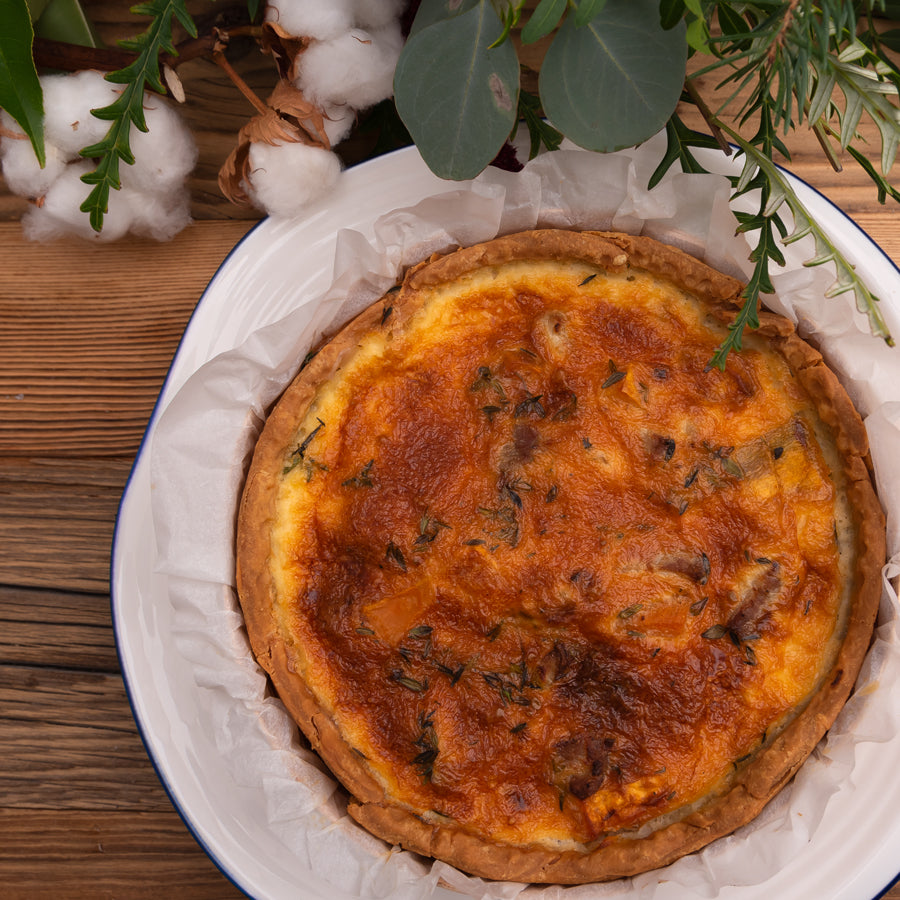 Quiche is one of the most popular dry French cuisine, most often served during Christmas. Quiche from Lorraine is a great idea for one of the holiday dishes also on the Polish Christmas Eve table.
An elegant and tasty quiche with mushrooms is a combination of shortbread dough based on butter and wheat flour with a creamy stuffing made of mushrooms, eggs and cream. Aromatic onion, delicate chives and dill add character, while nutmeg and garlic enrich the taste.
Additional information:
Packaging: pad and carton
Weight: diameter 18cm
ATTENTION. Deliveries on December 22 and 23. December 24 Personal acceptance in Batida premises.
gluten
soy
sesame
peanuts
eggs
milk
Personal pickup in stationary boutiques:

Warsaw: Hala Koszyki, Królewska 2, Przy Lasku 2,
Plac Vogla
Konstancin-Jeziorna: Stara Papiernia

Delivery by a refrigerated car:

Cost: PLN 48.00-Warsaw districts: Śródmieście, Żoliborz, Wola, Targówek, Praga-Południe, Praga-Północ, Ochota, Mokotów, Włochy, Wilanów, Wawer, Ursynów, Ursus, Rembertów, Bielany, Białołęka, Bemowo,

Cost: PLN 48.00-municipalities neighboring Warsaw: Piaseczno, Konstancin-Jeziorna, Józefosław, Łomianki

Cost: PLN 60.00 - municipalities adjacent to Warsaw: Izabelin, Piastów, Ożarów Mazowiecki, Nadarzyn, Pruszków, Józefów, Marki, Jabłonna, Czosnów, Raszyn, Stare Babice (Babice Nowe), Izabelin,

Cost: PLN 60.00 - municipalities neighboring Warsaw: Wiązowna, Otwock, Kobyłka, Zielonka, Wieliszew, Izabelin, Legionowo, Halinów