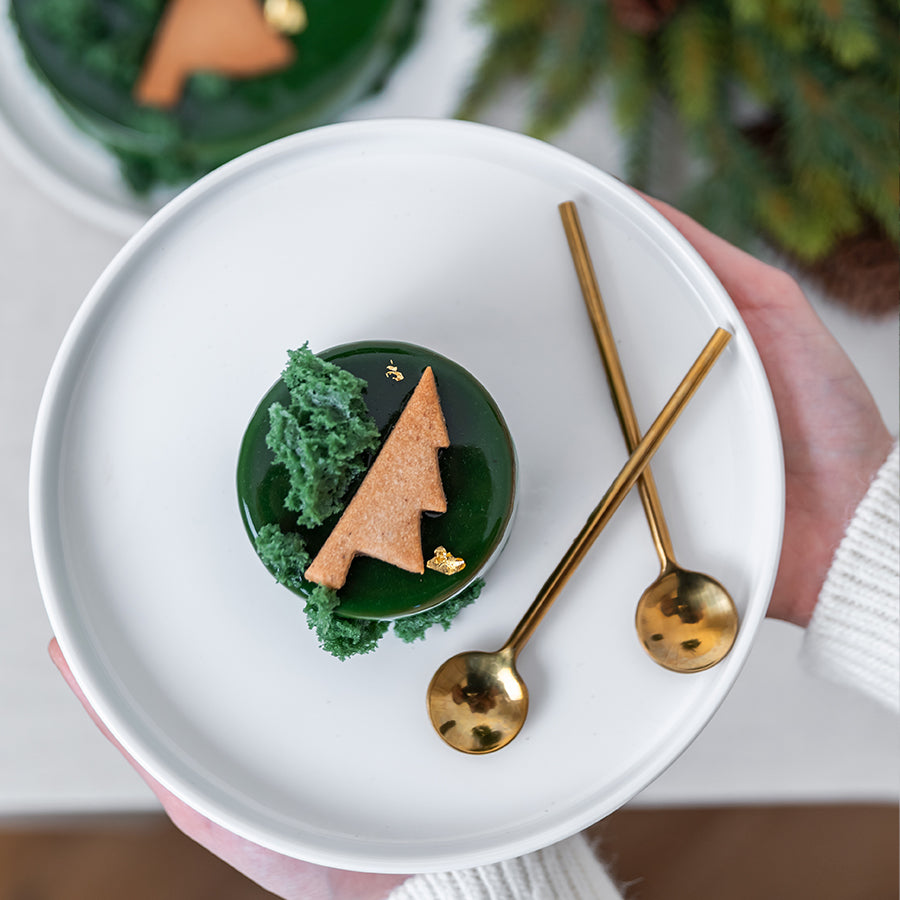 Move to the magical world of Christmas flavors with our Christmas mono portion.
This unique dessert has a rich chocolate mousse, which perfectly harmonizes with a layer of sweet poppy seeds. A delicate orange insert adds a fruity accent to the dessert, which contrasts with the crushing gingerbread base.
The whole is wrapped in a velvet coating in bottle green, which catches the eye and adds a unique character to the dessert. It is decorated with gingerbread Christmas tree and dining moss, which makes it resemble a small winter landscape. 
Additional information:
Packaging: dedicated cardboard box
Number of portions: mono portion recommended for one person
Order with implementation from 8 to 23 December.
gluten
hazelnuts
soy
sesame
peanuts
eggs
milk
Personal pickup in stationary boutiques:

Warsaw: Hala Koszyki, Królewska 2, Przy Lasku 2,
Plac Vogla
Konstancin-Jeziorna: Stara Papiernia

Delivery by a refrigerated car:

Cost: PLN 48.00-Warsaw districts: Śródmieście, Żoliborz, Wola, Targówek, Praga-Południe, Praga-Północ, Ochota, Mokotów, Włochy, Wilanów, Wawer, Ursynów, Ursus, Rembertów, Bielany, Białołęka, Bemowo,

Cost: PLN 48.00-municipalities neighboring Warsaw: Piaseczno, Konstancin-Jeziorna, Józefosław, Łomianki

Cost: PLN 60.00 - municipalities adjacent to Warsaw: Izabelin, Piastów, Ożarów Mazowiecki, Nadarzyn, Pruszków, Józefów, Marki, Jabłonna, Czosnów, Raszyn, Stare Babice (Babice Nowe), Izabelin,

Cost: PLN 60.00 - municipalities neighboring Warsaw: Wiązowna, Otwock, Kobyłka, Zielonka, Wieliszew, Izabelin, Legionowo, Halinów