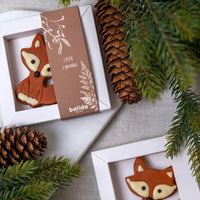 Give a moment of magic to those you care about the most, with our liska -shaped gingerbread.
His charming appearance and careful finishing of brown-hard icing makes the hearts of the youngest be breaking faster. Imagine the shiny eyes and smiles of children when they discover this sweet liska under the Christmas tree!
This is not only a tasty accessory for a festive table, but above all a souvenir that will stay in their hearts for a long time.
Additional information:
Packaging: dedicated cardboard and flag
Order with implementation from December 1 to 24.
gluten
hazelnuts
soy
sesame
peanuts
eggs
milk
Personal pickup in stationary boutiques:

Warsaw: Hala Koszyki, Królewska 2, Przy Lasku 2,
Plac Vogla
Konstancin-Jeziorna: Stara Papiernia

Delivery by a refrigerated car:

Cost: PLN 48.00-Warsaw districts: Śródmieście, Żoliborz, Wola, Targówek, Praga-Południe, Praga-Północ, Ochota, Mokotów, Włochy, Wilanów, Wawer, Ursynów, Ursus, Rembertów, Bielany, Białołęka, Bemowo,

Cost: PLN 48.00-municipalities neighboring Warsaw: Piaseczno, Konstancin-Jeziorna, Józefosław, Łomianki

Cost: PLN 60.00 - municipalities adjacent to Warsaw: Izabelin, Piastów, Ożarów Mazowiecki, Nadarzyn, Pruszków, Józefów, Marki, Jabłonna, Czosnów, Raszyn, Stare Babice (Babice Nowe), Izabelin,

Cost: PLN 60.00 - municipalities neighboring Warsaw: Wiązowna, Otwock, Kobyłka, Zielonka, Wieliszew, Izabelin, Legionowo, Halinów