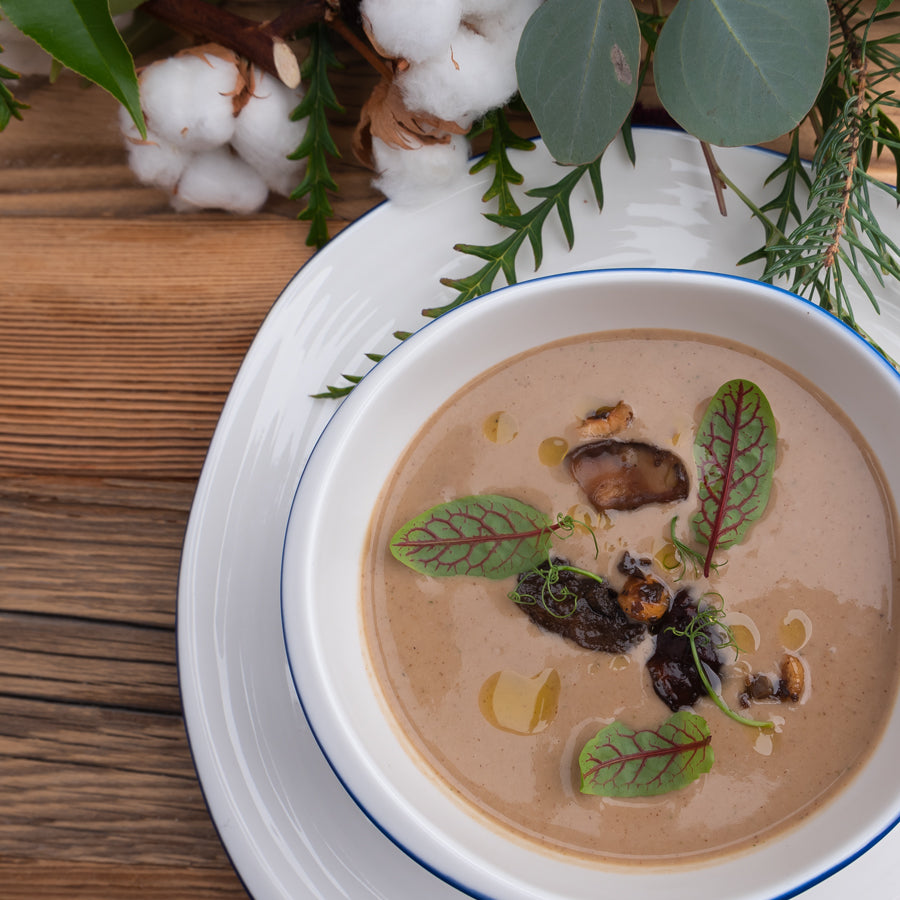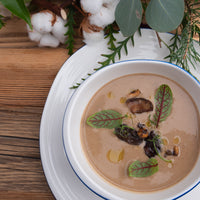 Mushrooms in winter are a unique rarity for many. If this year you want to open a Christmas dinner with a different soup than borscht, we offer an essential and aromatic cream made of forest mushrooms.
A deep, aromatic cream made of forest mushrooms, which combines the taste of fresh mushrooms and mushrooms with the intensity of dried mushrooms. Onions and garlic add taste depth, while potatoes provide a creamy consistency. The subtle accent of cream and soy sauce emphasizes the nature of mushrooms, and fresh thyme adds aroma. Seasoned with delicate white pepper and salt. The perfect start of the Christmas Eve feast.
Additional information:
Packaging: glass jar
weight: 300ml or 700ml
ATTENTION. Deliveries on December 22 and 23. December 24 Personal acceptance in Batida premises.
gluten
soy
fish
sesame
eggs
milk
Personal pickup in stationary boutiques:

Warsaw: Hala Koszyki, Królewska 2, Przy Lasku 2,
Plac Vogla
Konstancin-Jeziorna: Stara Papiernia

Delivery by a refrigerated car:

Cost: PLN 48.00-Warsaw districts: Śródmieście, Żoliborz, Wola, Targówek, Praga-Południe, Praga-Północ, Ochota, Mokotów, Włochy, Wilanów, Wawer, Ursynów, Ursus, Rembertów, Bielany, Białołęka, Bemowo,

Cost: PLN 48.00-municipalities neighboring Warsaw: Piaseczno, Konstancin-Jeziorna, Józefosław, Łomianki

Cost: PLN 60.00 - municipalities adjacent to Warsaw: Izabelin, Piastów, Ożarów Mazowiecki, Nadarzyn, Pruszków, Józefów, Marki, Jabłonna, Czosnów, Raszyn, Stare Babice (Babice Nowe), Izabelin,

Cost: PLN 60.00 - municipalities neighboring Warsaw: Wiązowna, Otwock, Kobyłka, Zielonka, Wieliszew, Izabelin, Legionowo, Halinów