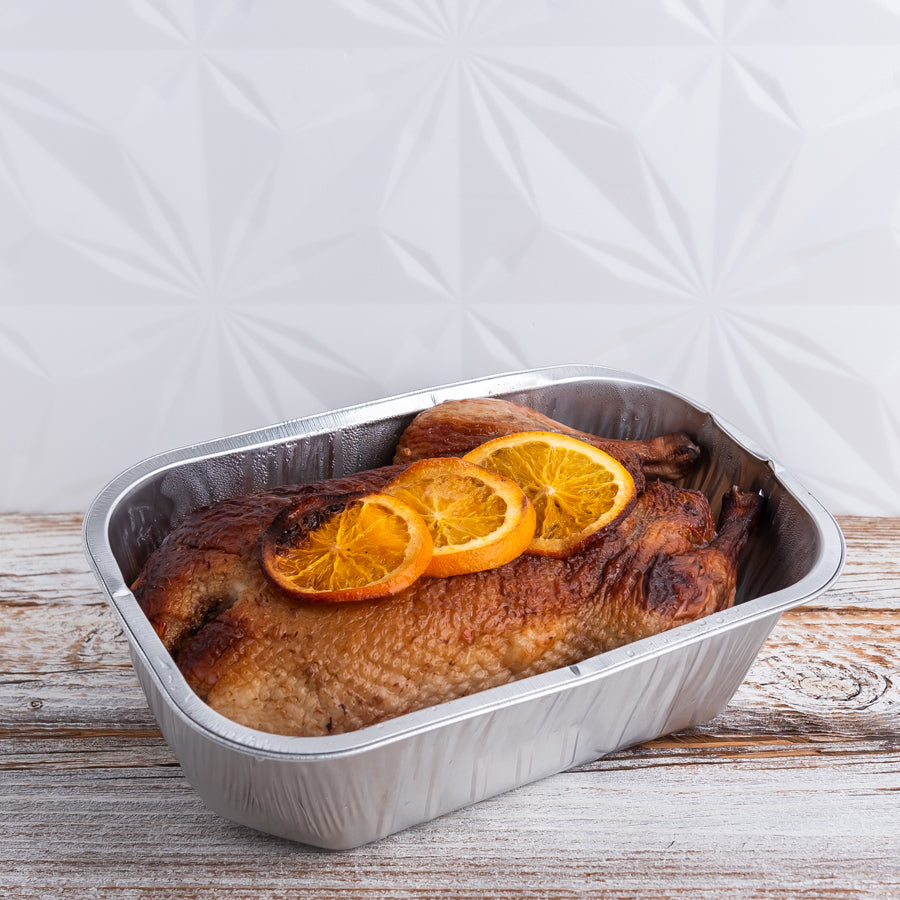 Roasted duck with orange is the quintessence of traditional cuisine in a modern edition. A carefully prepared duck, filled with juicy apples and aromatic herbs, baked to golden color, is a dish that will satisfy the most demanding palates.
The clear taste of meat goes perfectly with a hint of apple and honey sweetness and fresh ginger sharpness. Marjoram, cinnamon and bay leaf add taste depth, creating an unforgettable culinary impression.
It is an ideal dish for a festive dinner with family or friends.

Additional information:
Packaging: aluminum form and cardboard with lid
Weight: about 2kg + sauce Cumberland 125ml

ATTENTION. Deliveries on December 22 and 23. December 24 Personal acceptance in Batida premises.

Personal pickup in stationary boutiques:

Warsaw: Hala Koszyki, Królewska 2, Przy Lasku 2,
Plac Vogla
Konstancin-Jeziorna: Stara Papiernia

Delivery by a refrigerated car:

Cost: PLN 48.00-Warsaw districts: Śródmieście, Żoliborz, Wola, Targówek, Praga-Południe, Praga-Północ, Ochota, Mokotów, Włochy, Wilanów, Wawer, Ursynów, Ursus, Rembertów, Bielany, Białołęka, Bemowo,

Cost: PLN 48.00-municipalities neighboring Warsaw: Piaseczno, Konstancin-Jeziorna, Józefosław, Łomianki

Cost: PLN 60.00 - municipalities adjacent to Warsaw: Izabelin, Piastów, Ożarów Mazowiecki, Nadarzyn, Pruszków, Józefów, Marki, Jabłonna, Czosnów, Raszyn, Stare Babice (Babice Nowe), Izabelin,

Cost: PLN 60.00 - municipalities neighboring Warsaw: Wiązowna, Otwock, Kobyłka, Zielonka, Wieliszew, Izabelin, Legionowo, Halinów