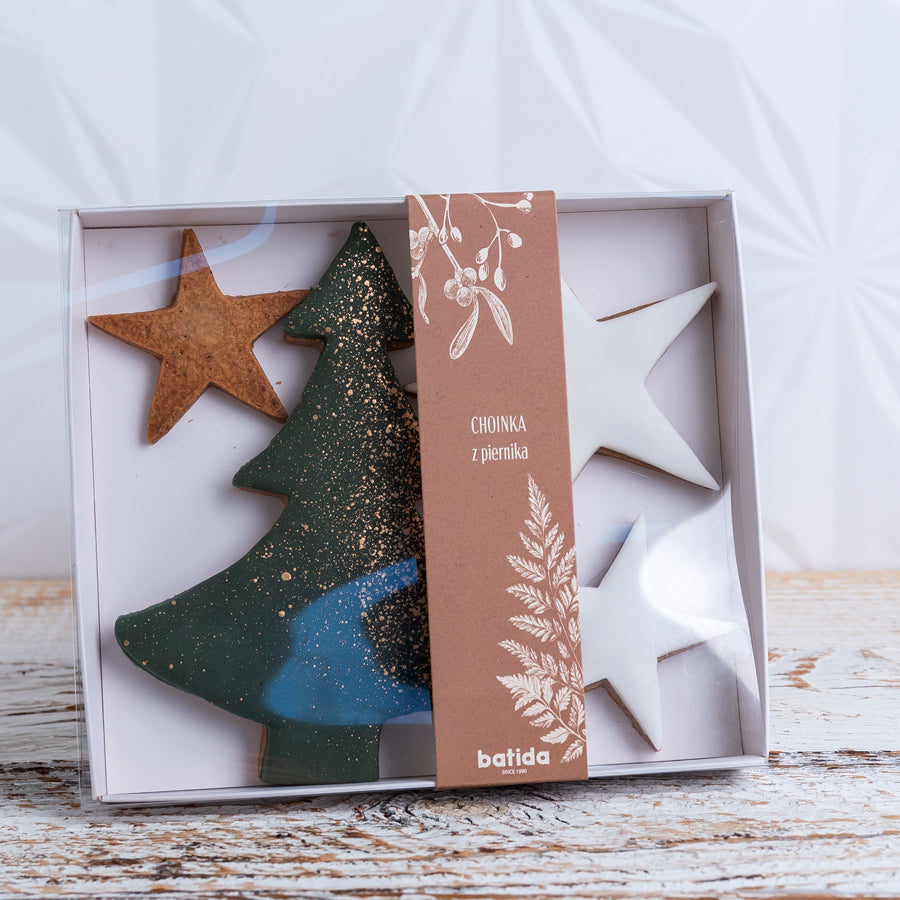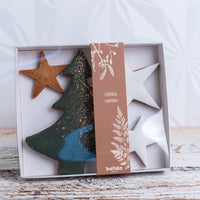 Gingerbread Christmas tree
Emphasize the atmosphere of Christmas thanks to our elegant gingerbread Christmas tree in a shade of bottle green.
Each Christmas tree has been carefully decorated with dining gold, which adds shine and exceptional elegance. The set also includes three gingerbread stars that complement the whole. Could there be something more symbolic at Christmas than Christmas tree and stars?
This set will certainly delight your guests and loved ones. It is also a great idea for a Christmas gift that will leave a lasting impression.
Additional information:
Packaging: dedicated cardboard and flag
weight: Christmas tree and three stars
Order with implementation from December 1 to 24.
Personal pickup in stationary boutiques:

Warsaw: Hala Koszyki, Królewska 2, Przy Lasku 2,
Plac Vogla
Konstancin-Jeziorna: Stara Papiernia

Delivery by a refrigerated car:

Cost: PLN 48.00-Warsaw districts: Śródmieście, Żoliborz, Wola, Targówek, Praga-Południe, Praga-Północ, Ochota, Mokotów, Włochy, Wilanów, Wawer, Ursynów, Ursus, Rembertów, Bielany, Białołęka, Bemowo,

Cost: PLN 48.00-municipalities neighboring Warsaw: Piaseczno, Konstancin-Jeziorna, Józefosław, Łomianki

Cost: PLN 60.00 - municipalities adjacent to Warsaw: Izabelin, Piastów, Ożarów Mazowiecki, Nadarzyn, Pruszków, Józefów, Marki, Jabłonna, Czosnów, Raszyn, Stare Babice (Babice Nowe), Izabelin,

Cost: PLN 60.00 - municipalities neighboring Warsaw: Wiązowna, Otwock, Kobyłka, Zielonka, Wieliszew, Izabelin, Legionowo, Halinów